Wrackbirds (Jutvogels in Dutch)
Wrackbirds are made by the sea and daily wash up on beaches all over the world.They are hidden between fishing nets, ropes, shells, sea creatures and wreck trees. They are attacked by seagulls and other coastal birds who are looking for food.
Wrackbirds are discovered by me between all the material at the shoreline. I free them and bring them home. I bath them and carefully dry them. Then I give them their final shape so they can shine.
Every Wrackbird is unique. There is only one copy of each all over the world.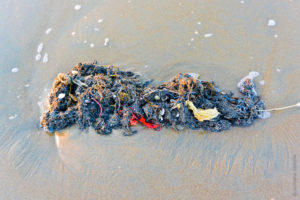 Now I see wrackbirds as gifts from the sea. The plastic we give to her, she returns to us in a different shape. With her creations the sea seems to say: "This is what I made of it, a present especially for you." Ofcourse she does not want all that rubish in her territory. Which piece of plastic from your hand did we get back? Or is it in a wrackbird already?